Based on the GradConnection 2016 Returnee Report, Chinese and Hong Kongese employers target UK universities above all others when looking for returnee students.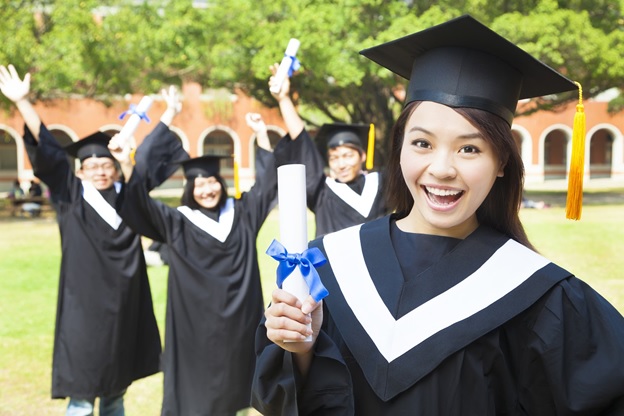 2016 GradConnection Returnee Report
Last year, 93 employers based in Hong Kong and China with a graduate and/or internship program were invited to participate in the GradConnection 2016 Returnee Report. The aim of the survey was to provide insight into the hiring preferences of returnee students and establish a benchmark on returnee recruitment strategies for employers. The survey was also aimed at uncovering the employability prospects for international students from universities based in Australia, the UK and USA.
Where are employers looking?
In the survey, employers were asked about their selection methods for hiring returnee graduates from overseas universities and had the opportunity to include any university that they targeted to the survey. As expected, universities from the UK, USA and Australia came out on top as each of these regions have a large number of Chinese and Hong Kongese students enrolled.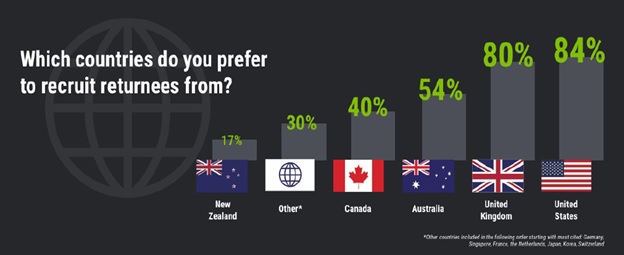 Based on the survey results, 80% of employers said that they targeted UK universities specifically when looking to hire returnee students, second only to the USA with 84%. Despite having the greatest number of overseas students per university enrolled and are the closest in proximity to Asian employers, the survey findings showed that Australia lagged overall with only 54% of employers targeting them.
UK university rankings
An important part of the survey was to accurately understand employers hiring preferences and know which universities they targeted when looking for returnee students. In order to do this, we selected 18 UK universities based on a range of factors such as league table rankings, number of Chinese students and geographic spread across the UK. From there, the participating employers were asked three questions about each university:
Have you heard of this university?
If you have, do you actively target it for returnee students?
If you haven't, would you target it if you knew they had the right students for you?
What was interesting, were the inconsistencies revealed in the survey across previous data points. For example, the data revealed that universities were not necessarily targeted by employers based on league table rankings.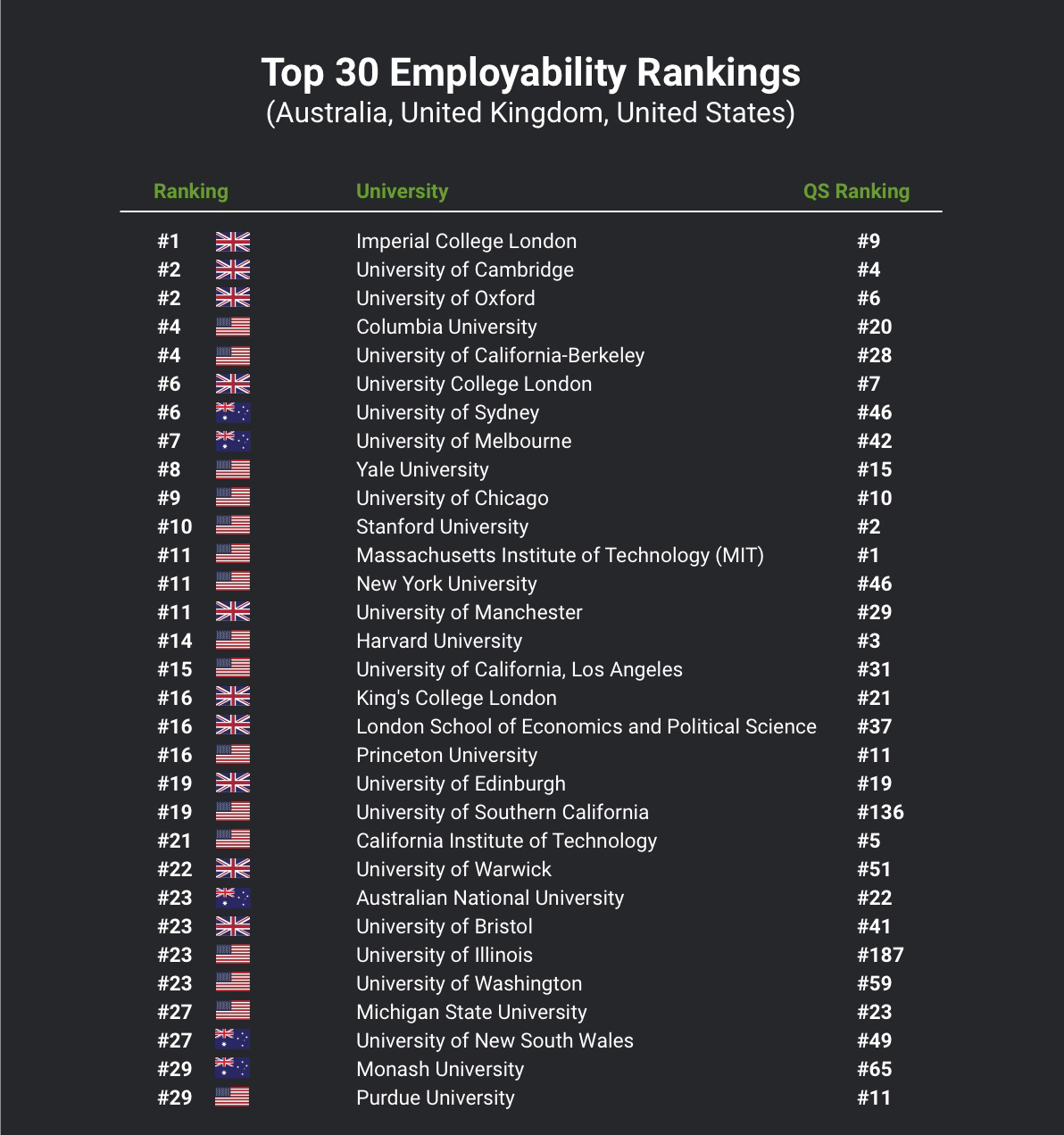 Imperial College have a QS Ranking of nine, however, according to the survey results they came out at the very top of the list as the most targeted university across all regions for employers seeking returnee students. In fact, according to our report, the top three universities across the globe were from the UK with the University of Cambridge being the second most targeted university and the University of Oxford the third. Surprisingly, despite only having a QS ranking of 29, the University of Manchester was named the fifth most targeted university in the UK and 11th globally.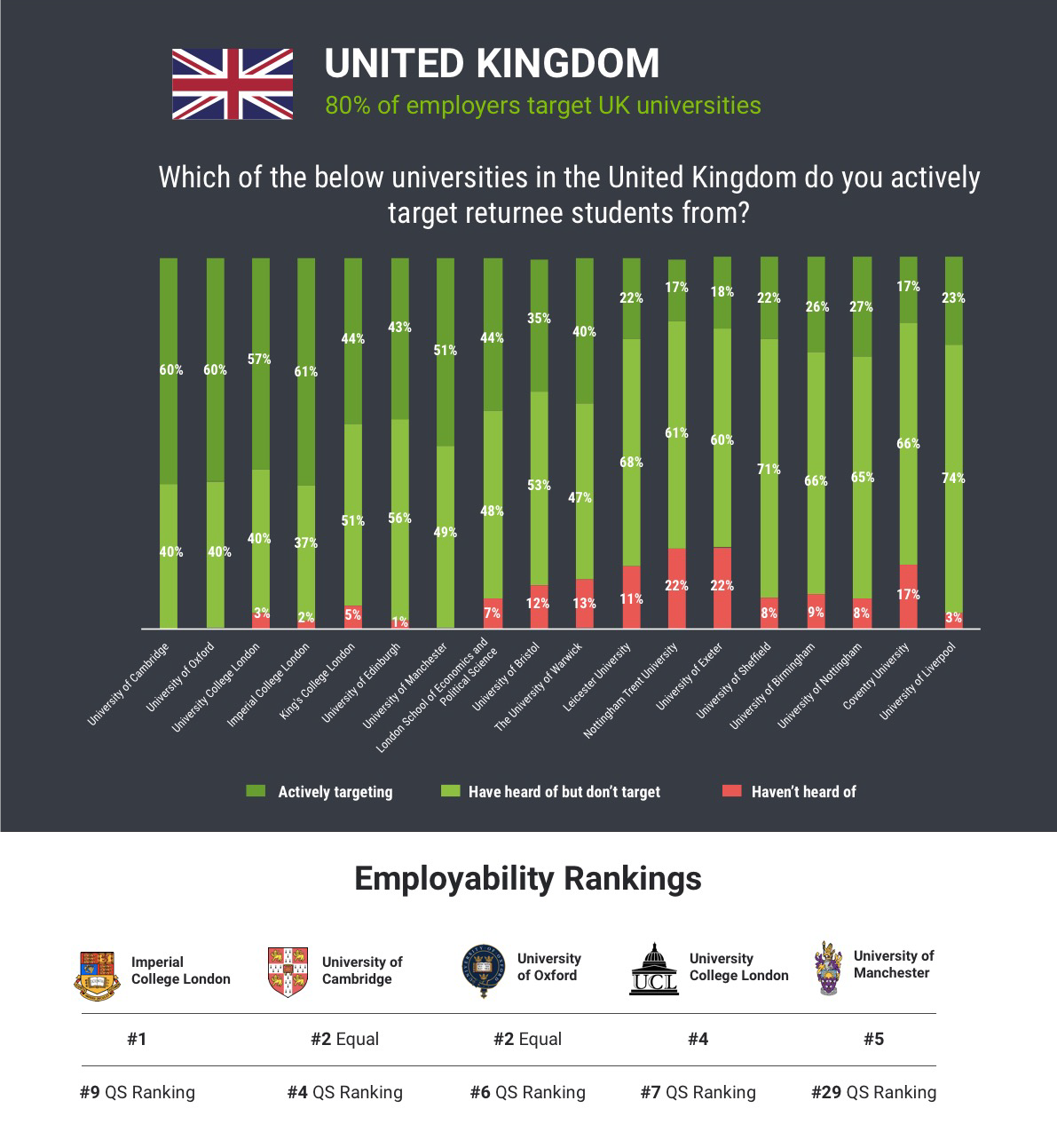 Employer targeting preferences
Other notable data collected from the survey revealed that a lot of universities are known by employers but are not actively targeted. Targeting preferences were based mostly (56.99%) on previously having hired successfully from a particular university in the past as well as the quality of education based on league tables rankings (53.76%). Efficient online student targeting methods also featured quite high in the survey at 29.03% of employers considering it an important factor when deciding what overseas university to target. Most notable, however, was the 86.17% of employers willing to target a university if they were made aware of its high number of returnee students eligible to work for their organisation.
For more information and access to the full 2016 GradConnection Returnee Report, please contact Dave Jenkins.