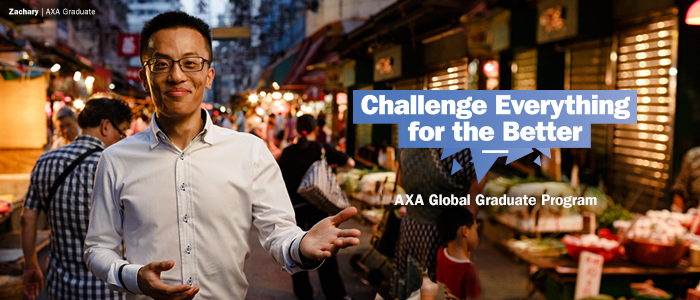 Zachary Zhang
Actuarial Analyst
AXA France
The AXA Global Graduate Program: From Hong Kong to Paris
Zachary joined the Global Graduate Program in 2014 as an Actuarial Assistant in Hong Kong. Now he's moved to Paris for his second assignment as an Actuarial Analyst at AXA France. So, what's it like working for the number one global insurance company? Let's find out.
How does it feel to part of the global graduate program?
I feel like I'm part of a global network of graduates. At the Graduate Camp in Paris last year I was able to meet and network with graduates from many different places around the world. We've kept in touch with each other since the Camp, and we often chat and discuss about interesting things at life and work, as well as our career plans.
What does an actuary actually do?
We help the business make sense out of data by analysing historical trends. We determine the likelihood of risks and design statistical models – models which enable AXA to make sound decisions and develop the right kind of insurance products for our customers.
What was it like working in Hong Kong?
The actuarial industry in Hong Kong is relatively mature, which gave me a good platform to learn and to develop. I lived there for almost 6 years. It's a dynamic and diversified city, with people from all over the world. AXA Hong Kong is very like the city itself: very dynamic with a strong multi-cultural community. Colleagues from different countries bring their own experiences and working styles. We all learn from each other and help each other to be better.
What advice do you have to students thinking of joining the program?
Challenge the status quo – new ideas are always welcome at AXA
Check out the video below to hear more of Zachary's story.