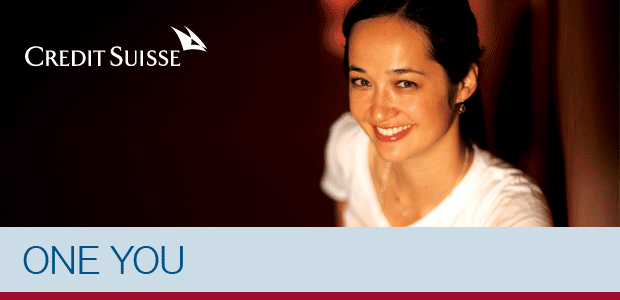 About Credit Suisse
Credit Suisse
---
About Us
Credit Suisse is a forward-thinking financial services firm serving clients around the globe. As a stable company with a long banking tradition, we are one of the most respected banks in the world. Indeed, we are a leading player in many key markets - recognized by industry publications for our continued excellence.
Our business
Our three primary businesses - Private Banking, Investment Banking and Asset Management - partner with our Shared Services, Information Technology and Operations teams. Together, they work around the world, around the clock, providing seamless solutions to our global clients and employees. 
About our programs
Our programs give you the chance to make a difference from day one, and provide make a difference from day one, and provide world-class training and support to help you delvelop into a future business leader.
What you get:
In addition to on the job experience, you will receive formal training and mentoring tailored to your individual needs and to the demands of your chosen business area. This is just the first step in a program of continuous professional development that we will offer you throughout your career. 
Become a future leader
Our vision is to become the world's most admired bank. We look for people with a wide range of experiences, interests and degrees who will add fresh perspectives to our business. A career with us means that you can help shape our future.