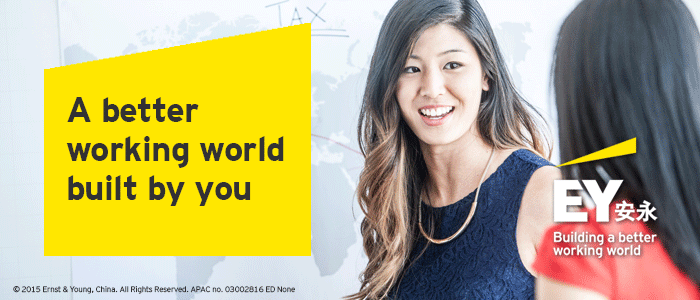 EY Recruitment programs
EY
---
EY Recruitment programs
Graduate Opportunities

Application

Aptitude Test

Manager Assessment

Partner Interview

Offer

Target onboard date

2016 Graduate Program

(For final year graduates study outside Hong Kong)

From 1 Jan onward

Feb

Mar - Apr

Apr – May

May – Jun

 Sep/Oct/Nov

2016 Summer Internship Program

(For non-final year students study outside Hong Kong)

1 Jan - 31 Jan

Feb

Mar

-

Apr

Jun – Aug
(6 -8 weeks)

2017 Spring Internship Program

(For non-final year students study outside Hong Kong)

1 Sep – 30 Sep

Oct

Oct – Nov

-

Nov

Jan – Mar 17 (3 months)
Entry requirements
Bachelor / Master's degree with an emphasis on Accounting, Finance, Statistics, Economics, Computer Science, Engineering, Information Systems or business are preferred
Excellent written and spoken English and Chinese
Conversational Japanese or Korean (only applies to  the Japan or Korean desk Assurance positions)
Strong analytical, teamwork and organizational skills
Positive attitude and enthusiasm in the performance of responsibilities
Permanent resident of the Hong Kong Special Administrative Region or international graduate (or holder of valid work visa) who is eligible for employment in Hong Kong for employment in Hong Kong (for graduate and internship recruitment programs)
How to apply
Submit an online application at www.ey.com/cn/careers, with your CV, cover letter and academic transcripts.
Should you have any questions regarding the programs, please email to [email protected].
Interview arrangements
What would be the interview arrangement if I cannot come back to Hong Kong for assessments?
For candidates who are not able to come back to Hong Kong for interviews, phone or skype interview maybe conducted depending on different service lines' practice.
In some business units for graduate positions, shortlisted candidates are required to meet personally at the final stage of recruitment process.
Opportunities to know more about EY and talk to our recruiters?
We organize "EYHK office visits" in school vacation period.  If you are interested in visit us, please write an email to [email protected] with subject "EYHK office visit for overseas students_[Name of university]_[Your name]", and we will notify you the details.