Sustainability means building our business for the long term by balancing social, environmental and economic considerations in the decisions we make. This enables us to foster growth, which is both sustainable and commercially viable.
Since its foundation in 1865, HSBC has adapted to and helped serve the needs of a changing world. It has financed economic growth, fostered international trade and overcome events such as economic crises. We recognise that governments, corporations, the financial system and civil society are all stakeholders of climate change and sustainability challenges.
Now more than ever, there is a need to develop the skills, business innovation and low-carbon solutions needed to secure long-term prosperity for all. For HSBC, these are the key elements of sustainable growth, which we can influence.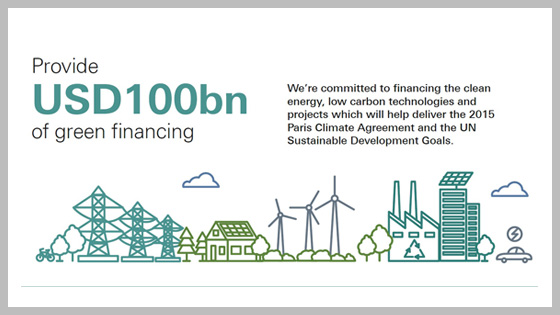 Sustainable finance
As one of the world's largest banking and financial services organisations, HSBC aspires to be a leading global partner in the transition to a low-carbon future.
Operations
We are committed to cutting our annual carbon emissions from 3.5 tonnes per employee in 2011 to 2.0 tonnes by 2020. Carbon emissions per employee in 2016 were 2.63 tonnes, thanks to the support of our employees and suppliers.
Communities
We work with leading charities to support projects with a focus on education, the environment and health. We aim to help young people reach their potential through access to education and entrepreneurship.
For more information on Sustainability click here.
Join some of our senior executives in the wild as they learn about climate change, protecting the planet, and how it affects us all.
---