New World Group Internship Programme 2017
New World Group
---
New World Group Internship Programme 2017
Founded in 1970, New World Development Company Limited ("The Group", Hong Kong stock code: 00017) was publicly listed in Hong Kong in 1972 and is a constituent stock of the Hong Kong Hang Seng Index. A premium brand infused with a unique personality defined by The Artisanal Movement, New World Group's core business areas include property development, infrastructure and services, retail, and hotels and serviced apartments. As at 31 December 2016, the total asset value of the Group amounted to HK$420.4 billion. The Group has an effective interest of approximately 61% in NWS Holdings Limited (Hong Kong stock code: 00659), approximately 72% in New World Department Store China Limited (Hong Kong stock code: 00825). New World China Land Limited is wholly owned by the Group.
To fulfill its mission of fostering youth development for society, we are now looking for energetic, innovative, passionate and pro-active undergraduate students who are interested in gaining in-depth knowledge and understanding of our businesses through joining our Group Internship Programme and to be our New World Talent in future.
Programme Overview
During the eight-week internship, interns will be provided with plenty of learning opportunities within our Group companies to gain hands-on experience, other than on-the- job training, interns are offered an opportunity to be a "project manager" to manage a project with teammates and collaborate with different departments. Hence, interns can gain working and leadership experience in one go.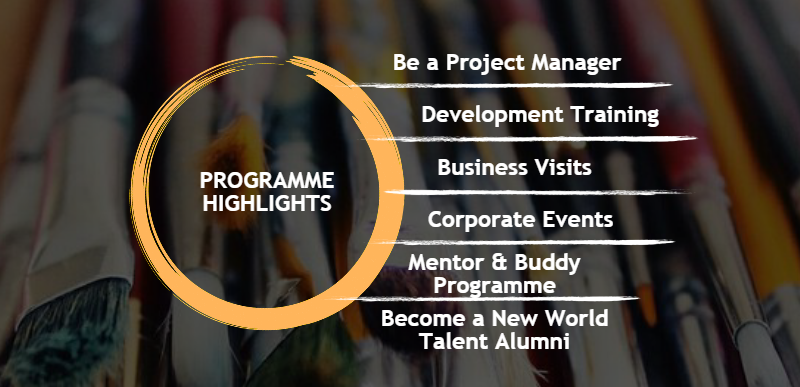 Interns with outstanding performance will be given preference in their future applications for Management Trainees or other vacancies in New World Group.
Artisans We Are Looking For
Undergraduate students (including those from Mainland China or overseas) possessing the following qualities are welcome to apply:
Ready to go ONE STEP FORWARD
Ready to SHINE
Ready to be our New World TALENT Newness, World-vision, Trust-worthy, Advancement, Leadership, Extra- curricular, Nimble, and Teamwork
Boundless Curiosity
Proficient in both spoken and written English and Chinese (Cantonese and Putonghua)
Prepared to develop a long-term career in New World Group after graduation